Personal video from Shaun the Sheep
Personal video from Shaun the Sheep
NEW! Shaun the Sheep enters the world of personalised wishes. Now you can put a smile on someone's face by ordering a custom video for their birthday. Shawn's crew will prepare a unique celebration which will be recorded on a farm. We guarantee a cascade of emotions and a present likes of which nobody has received from Shaun before. Each ordered clip supports a charitable cause.
Surely, you know the story by now. In 1995 Nick Park had created a plasticine sheep for the "Wallace & Gromit in A Close Shave" short film. The character was a hit with the fans. A few years later, Shaun had received his own stop-motion animated series called "Shaun the Sheep". The show was a hit – children from all around the world fell in love with the main character and his farm friends.
A new kind of fun
Now everyone can order customised wishes delivered personally by Shaun the Sheep with the help of his friendly flock. The clips will be shot on a farm. The addressee of the video will receive a specially prepared mini-episode of the show. Fun and laughter guaranteed. A gift like that stays with you for long and you will watch the video several times (so we are told by satisfied parents). For now, you can order a film version of birthday wishes. Soon, however, you will be able to have Shaun and his crew prepare personalised videos for every occasion: name day, Children's Day, exams, end of the school year, holidays.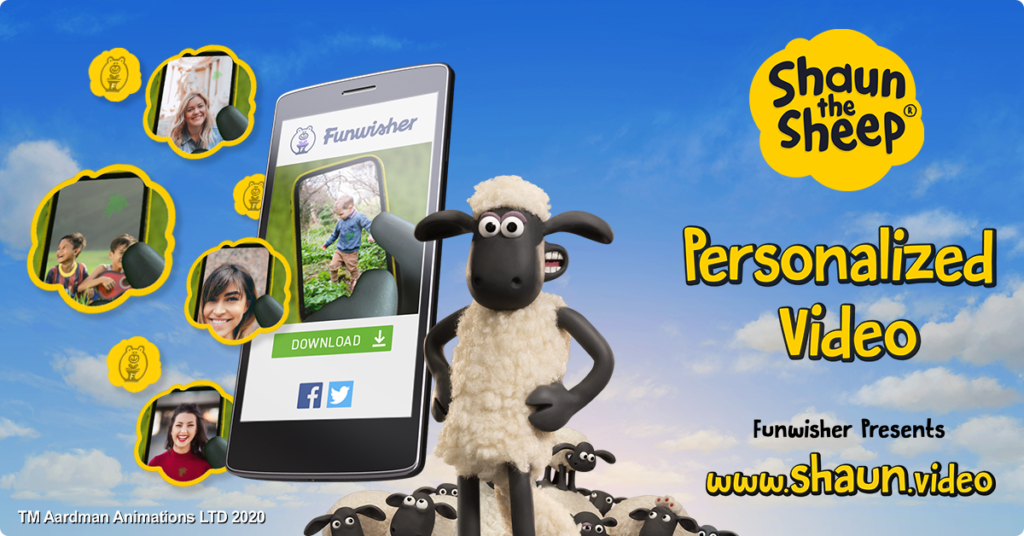 How does it work?
Aardman Animations teamed-up with funwisher.com which offers personalised wishes from sports stars, actors, influencers or musicians. Now the time has come for an animated character! Anyone can order completely customised wishes from Shaun the Sheep online at www.shaun.video. All you need to do is prepare some photos of the birthday person and give Shaun some basic information about them: their name, age, interests. Shaun will come up with a script and, together with his friends, they will develop a unique video message. The clip will be ready within 24 hours by default or within 1 hour if you choose quick turnaround.
Fun for charity – that's the spirit!
Through the new video adventure with Shaun the Sheep not only can you prepare an exclusive gift but also support a charity. Part of the sales from each video will go to one of the listed charities. Every customer can decide on who will receive their support: The Grand Appeal, The Children`s Sleep Charity or Brake the Road Safety Charity.
Custom wishes from Shaun the Sheep to children and adults alike will debut in every English-speaking part of the world right now!